Lashings Food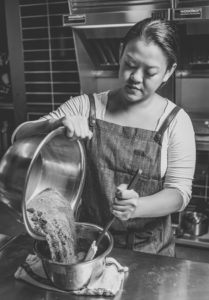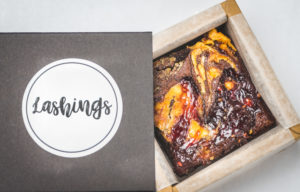 Stallholder
Jackie Lee Morrison
Description
Lashings is the brainchild of British pastry chef Jackie. Jackie trained in the UK and then honed her craft all over London, at 5* hotels and Michelin starred restaurants, but now calls Wellington home, along with her husband and their 2 cats!
We make a range of single-origin chocolate brownies using 70% Dominican Republic chocolate from the Wellington Chocolate Factory (organic, ethically traded and vegan friendly). Being a small, local business we love local and are proud to be able to use chocolate made right here in Wellington, as well as local favourites Fix & Fogg Peanut Butter, and jam from jam-maker-extraordinaire Graeme Cunningham of Jam.It Fine Foods.
Choose a single box, pack of 2, 4 or 6, and mix and match from our range of True Brownies to get your fix:
Classic Milk Choc – a delicious, fudgey, chocolatey piece of nostalgia.
Fix & Fogg PB & Raspberry Jam – a classic, updated with style, obvs.
Vegemite – the divider! This one is a pure hit of umami, must be tried!
Vegan Coconut Salted Caramel (GF) – we love all our customers, whether you're vegan, GF, DF, NF or otherwise.
Rotating Special – what's next? It's a secret! Announced on Fridays through our social media channels. Previous sell-out specials have included: Jackie's Jaffa, Tiramisu, Turkish Delight and the Moustache Snickers Cookie Collab, plus a whole heap more.
We're proud to be able to now offer you some of our delicious True Brownies at the Harbourside Market, so what are you waiting for? Come on down, check us out and let's #MakeYourBellyHappy!
Contact
Phone: 022 4754827
Email: lashingsfood@gmail.com
Website: lashingsfood.com
Instagram/Facebook/Twitter: lashingsfood
Market open Sundays
7:30am - 1pm Winter, 7:30am - 2pm Summer.
Become a Stall Holder
Interested in becoming a stall holder?
Get in touch with our market team today
Stall Map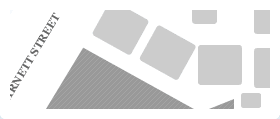 Where are we?
The market is located on the corner of Cable St & Barnett St beside Te Papa.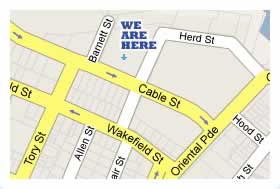 Get Our Email Updates