This recipe is provided by Richard Till and may be found in his latest recipe book "Richard Till makes it easy"
This is another kind of lasagne dish but replaces pasta with eggplant and meat with lentils.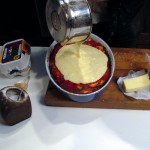 Ingredients
2 Tbsp olive oil
1 x 400gr can chopped tomatoes
1 eggplant, thinly sliced
1 large courgette or small marrow, thinly sliced
2 cups cooked lentils (see below)
1 egg
2 cups cheese sauce (see below)
1 Tbsp dried oregano
Cheese Sauce – makes approx 2 cups
2 Tbsp butter
3 Tbsp plain flour
1 cup milk
1 cup grated cheese
Salt and freshly ground pepper
In a medium sized saucepan over low to moderate heat lightly cook the flour in the butter.
Add milk and cook, beating with a wooden spoon or whisk.  Take off the heat, add cheese and season with salt and pepper.
Lentils
For the lentils your will need to simmer 1 cup of lentils, a finely diced small onion, 1 small grated carrot, a pinch of dried oregano, salt and pepper, 1 cup of water and 1 cup of red wine in a medium sized saucepan with a tight fitting lid.  Simmer gently for about 1 hour then set aside to cool.  Check there is always enough liquid.
How to cook
Preheat oven to 180°C.  Spread olive oil and one third of the tomatoes in the base of a lasagne dish or baking dish.  Cover with half the sliced eggplant followed by half the sliced courgette.
Tip over lentil mixture.
Cover with remaining courgettes, followed by remaining eggplant.  Press down you're your hands.
Spread the rest of the tomatoes evenly over the top, cover tightly with tin foil and bake for 1 hour.
Remove from the oven.  Mix egg with cheese sauce then spread over the top of the moussaka.  Return uncovered, to the oven and bake for a further 40 minutes.
Remove from the oven and stand for 20 minutes before serving.  Serves 4.