This recipe is provided by Richard Till and may be found in his latest recipe book "Richard Till makes it easy".  He recommends serving it with a sauce make by using 6 tablespoons of vinagrette (see recipe below) along with the juice of a lemon, 1 tablespoon of white wine and a finely diced tomato.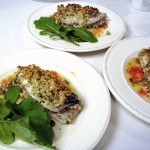 Ingredients
4 slices white sandwich bread
1/2 cup walnuts
1/4 cup parsley (or basil or thyme)
3 sping onions, roughly chopped
2 cloves garlic, chopped
2 Tbsp butter
4 sole fillets
How to cook
Preheat oven to 180 degree.  In a food processor, place all ingredients except fish and pulse until compined to create a moderately fine crumb mixture.
Split sole fillets in half and place the larger halves ona  greased oven tray.
Divide half the crumb mixture on top of the fillet halves.  Places the other fillet halves on top of the crumb mixture, effectively making a sandwich where the fish is the bread.
Place the rest of the crumb mixture on top of the top fillets.  Bake for 20 minutes.
Serves 4
Vinaigrette
Makes about 1 1/2 cups
1 cup olive oil
2 Tbsp cider vinegar
1 heaped tsp fresh mustard
2 tsps honey
2 cloves garlic, finely diced
1/2 tsp salt
Handful of fresh mint, finely chopped
Comine all ingredients in a jar with a tight-fitting lid and shake to combine.  Store in the fridge.  Remove from fridge half an hour before you wish to dress something to bring it up to room temperature.  Shake well before dressing.